England v New Zealand: fifth women's ODI – live! | Sport
12:17
Wicket!! Knight c Martin b Tahuhu 0 (England 96-2)
Devine brings back her spearhead, Tahuhu, and it works! Heather Knight gets a touch to a nothing ball down the leg side and goes from heroine to zeroine. Game on.
12:15
17th over: England 95-1 (Beaumont 40, Knight 0) So no fifty for Winfield-Hill, no hundred partnership, and a glimmer of hope for the White Ferns.
12:14
Wicket! Winfield-Hill c Satterthwaite b Jensen 43 (England 95-1)
You're not going to believe this, but Winfield-Hill has been dropped again. Jensen angles one in and Winfield-Hill chips it to midwicket, where Amy Satterthwaite sees it late, throws up a hand and can only tip it over the bar. And then it all happens again, off a pull shot – except that this time Satterthwaite holds on! So Winfield-Hill, who seemed to be the cat with nine lives, turns out to have only four, and doesn't really cash in on all that generosity.
12:08
16th over: England 91-0 (Winfield-Hill 40, Beaumont 39) Rowe continues already though she was getting some strapping put on her right knee a moment ago. Katey Martin comes up to the stumps to stop the batters standing outside the crease, but she doesn't cramp their style – Winfield-Hill straight-drives for four, Beaumont whips for four more, and this is all too easy.
12:05
15th over: England 80-0 (Winfield-Hill 33, Beaumont 35) Penfold gets a breather as Devine brings on her fifth seamer, Hayley Jensen. The bowling changes but the diet remains the same – right-arm medium speed. Jensen's second ball is thumped past mid-off for four by Winfield-Hill, who is in the mood to make NZ pay for all those fumbles.
12:01
14th over: England 75-0 (Winfield-Hill 28, Beaumont 35) Another respectable over, another four additions to the total. Heather Knight's hunch that this was a pitch to bat first on is looking perceptive – though the ball has done enough to justify Sophie Devine going the other way. It's been all about those dropped catches.
11:56
13th over: England 71-0 (Winfield-Hill 27, Beaumont 32) Penfold is good enough not to go for four, but the runs are nevertheless flowing – a associate of singles, a leg-bye and a wide. It's looking threatening for the New Zealanders.
11:52
12th over: England 67-0 (Winfield-Hill 27, Beaumont 31) NZ are desperate for a breakthrough, so they review an LBW that has been turned down firmly by Sue Ryan. It was a good ball from Rowe, nipping back, probably clipping Beaumont's off bail, but the impact was outside the line, so the review is lost. Beaumont, rubbing it in again, whips the next ball for four.
Here's Austin Baird, answering my question about the moment of the summer. "Well, for what it's worth," he modestly begins, "on Sunday 12th September I was at South Northumberland CC watching Newcastle CC stalwart Keith Brown, walk off the pitch for the last time. At 56 Keith thought the time was right to hang up his boots." 56! Don't tell Jimmy Anderson. "I first saw the young tyro in 1982 and he may have lost some of the speed off his fast ball and he might not have been biffing long hops as hard as he used to, but his fire and desire for Newcastle CC never faded. Also playing his last game the past day at Boldon CC was James Carr. Truly the end of an era for me. Hat tip to both. Gulp.
"PS thanks to you and all your colleagues for the sterling work you do for us." Ah thank you Austin, it's always a pleasure.
Updated

11:46
11th over: England 60-0 (Winfield-Hill 24, Beaumont 27) More dots as Penfold, with her long levers, ties Beaumont down – but then there's just enough width for a cover excursion, and another sloppy piece of fielding lets it slip by for four. The bowlers have really been let down by their fielders here.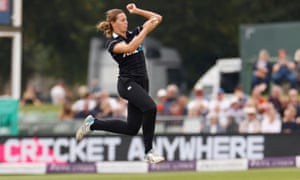 Updated

11:41
10th over: England 55-0 (Winfield-Hill 24, Beaumont 22) Hannah Rowe comes on as fourth seamer and restores order with a maiden. New Zealand needed that, but England are nevertheless bossing this as the powerplay comes to an end.
11:39
9th over: England 55-0 (Winfield-Hill 24, Beaumont 22) To drop one catch may be regarded as a misfortune. To drop two looks like carelessness. To drop three is an absolute shocker, especially when it's the same batter every time. Winfield-Hill offers a big fat snick off Penfold, and it's a mystery why Katey Martin can't keep up on behind the stumps. Beaumont rubs it in by clipping for four, to bring up the England fifty, and then pulling for four more.
11:35
8th over: England 46-0 (Winfield-Hill 24, Beaumont 14) Devine keeps herself on but strays down the leg side, conceding four leg-byes and a wide, so an over that contains only one run off the bat ends up costing six. Adam Collins, of this parish, is commentating and he points out that this is England's last ODI till February. The openers are playing as if they're well aware of that.
11:30
7th over: England 40-0 (Winfield-Hill 23, Beaumont 14) Devine makes her first bowling change, replacing the off-colour Tahuhu with Molly Penfold. She starts brightly but then blots her copybook with a waist-high complete-toss that is called a no-ball. Winfield-Hill tucks into the free hit, launching it over mid-on for four, and England are already on top.
Updated

11:26
6th over: England 33-0 (Winfield-Hill 18, Beaumont 13) Devine again, Winfield-Hill again, Down again – dropped again! A tougher chance this time, a excursion that went a yard or so to her right at backward point. She got the dive just right and the grab all wrong. already the best fielders can have a bad day.
11:22
5th over: England 25-0 (Winfield-Hill 12, Beaumont 11) Tahuhu is not looking like the bowler who took a five-for the other day. She drops short twice in this over and both openers cash in –Beaumont with a cut for four, Winfield-Hill with a swivel-pull for six.
Sky shows a cap ceremony from earlier on, honouring some women of Kent, past and present. "The good thing about these new caps," says Lydia Greenway, "is that they have holes for ponytails."
11:17
4th over: England 13-0 (Winfield-Hill 5, Beaumont 6) A maiden for Devine, but a missed opportunity. She again lures Winfield-Hill into a thick edge, and this time it's a dolly to backward point, waist high, not too sharp – but it's dropped by the usually reliable Lauren Down. A case of Lauren's humanity to Lauren.
11:13
3rd over: England 13-0 (Winfield-Hill 5, Beaumont 6) Tammy Beaumont picks up two twos off Tahuhu, going back to ease by the covers, then forward to clip past midwicket. Tahuhu gets a warning for running down the line of the stumps.
11:09
2nd over: England 9-0 (Winfield-Hill 5, Beaumont 2) At the other end it's Sophie Devine, swinging the ball prodigiously. She's more expensive than Tahuhu but also more threatening – the first four of the day, from Lauren Winfield-Hill, comes off a thick edge, squirting past gully.
Updated

11:06
1st over: England 2-0 (Winfield-Hill 1, Beaumont 1) The new ball is in the hands of Lea Tahuhu and she's on the identify right away, conceding only two singles. It's a sleepy September morning in Canterbury with a modest crowd in. Katherine Brunt made another interesting point just now, saying that this series felt like a bit of a come-down after The Hundred. It may be a blight on the men's schedule, but in itself it's been a big hit – and for the women's game, it's been transformative.
10:56
A short history of women's cricket
Butcher also asks good questions, a talent not given to many people brought up on dressing-room banter. He has the England all-rounder Katherine Brunt with him now, and after teasing her a bit about the fact that she's having another rest, he gets her to sum up the journey women's cricket has gone on in her time.
"Always on the rise, to be honest," she says. "You go from buying your own kit to suddenly getting some kit, thinking that's the best thing in the world, to then getting a sponsor, to playing in front of a hundred people, to playing in front of a thousand, to 20,000-something at Lord's. The Hundred was an enormous high and girls were going [she mimes wide-eyed and open-mouthed]. We've had people coming to our Rockets games saying they'd travelled five hours to get there."
Updated

10:45
A man for all seasons
You know we've reached Summer's End when the TV coverage is being fronted by a person in a raincoat. It turns out on closer inspection to be the OBO's new favourite commentator, Mark Butcher. He's fluent and funny and irreverent, and he has reached the top table at the right moment, just as the great Michael Holding bows out.
10:39
The teams
England 1 Tammy Beaumont, 2 Lauren Winfield-Hill, 3 Heather Knight (capt), 4 Nat Sciver, 5 Amy Jones (wkt), 6 Sophia Dunkley, 7 Danni Wyatt, 8 Charlie Dean, 9 Sophie Ecclestone, 10 Anya Shrubsole, 11 Kate Cross.
New Zealand 1 Lauren Down, 2 Suzie Bates, 3 Maddy Green, 4 Amy Satterthwaite, 5 Sophie Devine (capt), 6 Brooke Halliday, 7 Katey Martin (wkt), 8 Hayley Jensen, 9 Hannah Rowe, 10 Lea Tahuhu, 11 Molly Penfold.
10:34
NZ win the toss and bowl
Sophie Devine calls right and feels it's a grey enough morning to have a bowl. Heather Knight says she would have batted first anyway.
10:28
Preamble: the end of the road
Morning everyone and welcome to the final reel. It's the end of a one-day series that has been too complete of life to succumb to the dread phrase "dead rubber". New Zealand can't win it, but they can make it 3-2, which would be a fair reflection of their efforts. And England can enjoy themselves knowing not just that the series is in the bag, but that women's cricket in this country is now more popular than it has ever been.
Today also marks the end of England's international summer. Can you already remember when it began? I have a hazy impression that it was at the beginning of June. Then, as now, England were playing New Zealand, but it was the men, and it was a Test. It was so long ago that Stuart general was fit, Dom Sibley was opening the batting, and there was a cap ceremony for a promising young debutant called James Bracey. And then England let their supporters down by refusing to embark on a run chase. If they'd know that they would win only one Test in the remainder of the season, they might have decided to give it a go.
So here we are, nearly four months later. If you're sending an email, do tell us about your moment of the summer, large or small – something you'll remember with a smile when darkness descends at 4pm and you're nevertheless stuck in the queue for the petrol stop.
Play starts at 11am local time, so I'll be back shortly with the toss and the teams.
Updated

Click: See details