Australia Covid live news update: Melbourne lockdown to end from Frida…
00:20
As Victoria and New South Wales prepare to reopen schools for confront-to-confront learning, experts who have studied the experiences of other countries are warning that not all lessons have been learned, particularly on disguise-wearing and ventilation.
Guardian Australia's medical editor, Melissa Davey, has the complete story:
Updated

00:13
Some have expressed concern online about NSW's decision to reopen schools to all students by 25 October.
Children under the age of 12 are not however eligible for a Covid-19 vaccine.
NSW premier Dominic Perrottet also confirmed today that dominant school students will not be required to use a disguise, though they are promoted.
23:45
NSW no longer a commonwealth hotspot
The Australian government chief medical officer, Prof Paul Kelly, has confirmed the commonwealth hotspot declaration in New South Wales will end at 11.59pm tonight, after the state hit the 80% double-measure vaccination target.
That method commonwealth pandemic sustain for NSW will end in two weeks.
NSW was declared a hotspot for the purpose of receiving commonwealth sustain on 14 August 2021.
Updated

23:23
Justine Landis-Hanley is back to take this esteemed blog , I'll see you later this afternoon friends.
23:21
This all seems a little quaint: 50 people in South Australia are undertaking a pilot of an app that will allow them to show their vaccination position and check in to businesses. AAP reports:
South Australians will soon have an easier way to show their vaccination position ahead of the state hitting its target to open its domestic borders.
As of Sunday, more than 58 per cent of South Australians over the age of 16 have been fully vaccinated, and more than 75 per cent have received their first measure.
Fifty people are now taking part in a three-week pilot test of VaxCheck, a function inside the mySA Gov app that should ultimately allow people to show their vaccination position and check-in to a venue by the same app.
Currently, digital vaccination certificates are obtainable by myGov and the Express Plus Medicare app, which generate certificates that can be saved to a smartphone wallet.
South Australian Premier Steven Marshall said the pilot test "will ensure that the time of action is obtain and functional and that we are ready when the time comes to reopen our state in the safest way possible".
Mr Marshall wants the state to reach 80 per cent double vaccination position before opening domestic borders, a target it is on track to hit in December.
A similar function allowing people to check-in and confirm vaccination position was additional to the Service NSW app on Friday.
Updated

22:55
And to reiterate, Joyce was quite strong on the unlikelihood of an increase commitment on Australia's 2030 target.
22:53
Bit more Barnaby. He denied he'd told the chief minister, Scott Morrison, he would be able to get the Nationals to agree to any particular climate policy. He also said the party would not be beholden to any threats that its stance could harm the Coalition in an upcoming federal election, which is expected before the second half of next year.
Joyce:



We are not being held hostage … we are in the National party. In the Nationals, we will make a crucial decision, a national decision like we have in the past. And yes, we're informed. We are not in the Liberal party room. We are the Nationals. We will not be held hostage to what other people wish.
Updated

22:45
Here's the AAP report on the news from earlier that Jodi McKay was leaving NSW parliament:
Former NSW Labor leader Jodi McKay has announced she will resign from state parliament, the latest in a string of MPs to quit in recent weeks.
The Strathfield MP, who led the party for two years, on Sunday revealed her decision to quit, saying Sydney's Covid lockdown had given her time to mirror and consider her future.
"It was an honour to be the first-ever NSW Labor leader democratically elected by party members," she said in a statement.
McKay said her achievements included championing internal reform within the party, embracing multicultural communities and rebuilding Labor's relationship with the bush.
The 52-year-old relinquished her position as NSW Labor leader in June after a damaging byelection loss in Upper Hunter.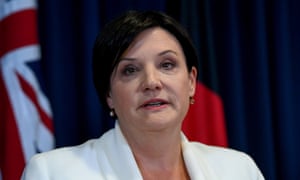 McKay is the fifth MP to quit this month after past premier Gladys Berejiklian resigned when Icac announced she was being investigated by the anti-corruption watchdog.
Deputy premier John Barilaro followed two days later, saying he wanted to pursue other career options.
Holsworthy MP Melanie Gibbons announced she would quit to run against Craig Kelly for the federal seat of Hughes, while former transport minister Andrew Constance also announced a federal politics tilt. He wants to win the seat of Gilmore back from Labor.
The resignations will cause five byelections at a date nevertheless to be determined.
Updated

22:42
That's the end of the short Barnaby Joyce turn up. I'll go back over the transcript and see if that provides any further clarity.


Click: See details